IMPORTANT NOTICE
POST-SEEDING CART RESTRICTIONS EFFECTIVE THURSDAY, OCTOBER 15th.  We recently seeded the tees, fairways and greens with Winter grass seed.  To protect the new seed and allow for proper seed germination and growth, the following restrictions apply for all golf carts. Please help us by strictly adhering to these requirements.  
Handicap operator privileges are temporarily suspended until seed is firmly established. 
Carts must be driven and parked on CART PATHS ONLY around all Greens, Tee Boxes and all Par 3 Holes. 
NO CARTS ALLOWED IN FAIRWAYS. Please keep carts on paths and in the rough and use designated cart crossings provided at the beginning of the Greens complex on Par 4 and Par 5 holes and also at the mid-way point on Par 5 holes.
Please be prepared to walk to your ball.
The cart restrictions will be adjusted in the coming weeks as the turf condition progresses. As always, thank you for your understanding and cooperation during the seeding process.  We hope these efforts result in wonderful turf conditions this Winter.
COVID-19 UPDATE
We have implemented safety protocols and made numerous adjustments to our operations for the safety of our staff and our customers and in compliance with the Arizona Governor's executive orders.  We also ask that customers do their part in slowing the spread of the virus by following the Customer Guidelines below.  We will continue to monitor the situation and follow the guidance and orders from state and local officials and will make further adjustments as necessary.  As always, customers assume all risks while playing golf or entering or utilizing any golf course facilities.
Customer Guidelines:  Please do your part to help slow the spread of the virus and to help us keep the golf course open for your enjoyment by adhering to the following guidelines.
If you are sick, please stay home.
Face coverings are required while inside the Pro Shop & Snack Bar (except when seated at your table eating & drinking).

Continue to practice physical distancing – maintain a physical distance of 6 feet from others – while in the Pro Shop, on the Practice Areas and on the Golf Course.

Cover coughs and sneezes, and wash or sanitize your hands frequently, especially before and after eating or drinking.

Hand sanitizer stations have been installed at the Pro Shop entry doors.
Tee Times – the preferred method for making tee times is online with a credit card, to reduce the number of in-person payment transactions. Book online at playmesadelsol.com.

Walking is permitted and is great exercise.

Touchless payment options are available for our regular customers who wish to securely save a credit card on file on their customer account.

Avoid handling the Flagstick, if possible.

Please dispose of all trash from your cart after your round.

Please post your score from your home computer or mobile app.
Snack Bar Operations – the indoor and patio seating areas are open, but capacity has been reduced by 50%.
Thank you for your cooperation and patience.  We hope you will continue to come out and enjoy this great game of Golf!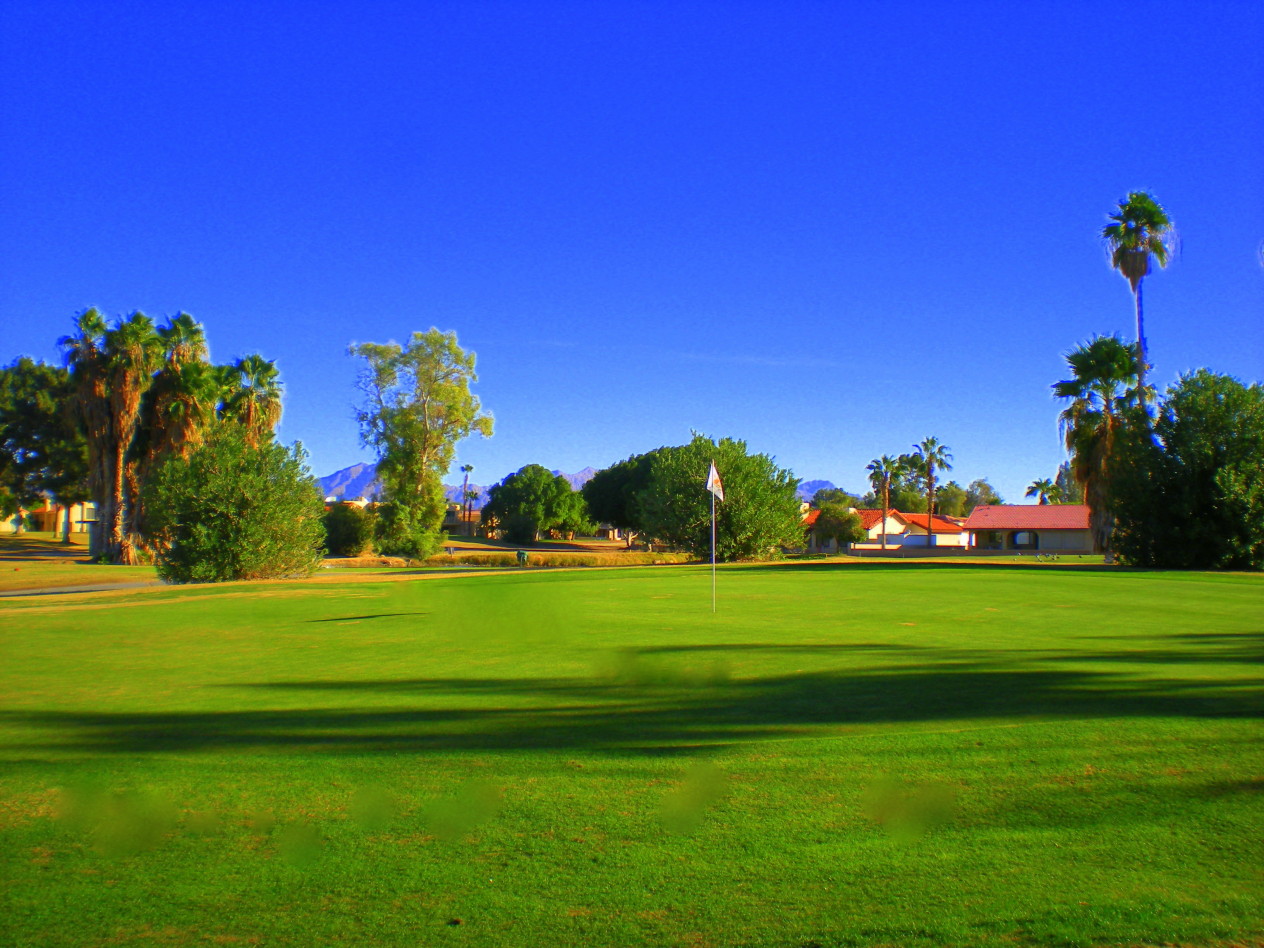 Welcome to Mesa Del Sol Golf Club
Designed by Arnold Palmer, Mesa Del Sol Golf Club is a public, daily fee golf course featuring 18 championship holes of golf. Located next to the Gila Mountains, in the Fortuna Foothills area of Yuma, Arizona, Mesa Del Sol Golf Club offers one of the most picturesque golfing experiences in the region and is a favorite course of residents and visitors alike.
Our golf course accommodates players of all experience levels — from beginner to elite. Players can choose among four sets of tee boxes, ranging in yardage from just over 5,300 yards from the forward tees and stretching to almost 6,700 from the back tees. We have an active Men's Club and Women's Club, as well as weekly co-ed events. If you're new to town and/or want to expand your social network, our clubs, leagues and casual groups are a great way to meet new friends.
Come Join Us
Mesa Del Sol Golf Club also provides a variety of services to its customers including club rental, club house with snack bar, dining room and outdoor patio, on-course beverage service (seasonal) and a full practice facility with driving range, three putting greens and professional golf instruction (seasonal).
As of September 2015, Mesa Del Sol Golf Club is under new ownership and management. We are now family owned and operated by full-time Yuma residents. Every day is a great day to play golf. Come Play today!!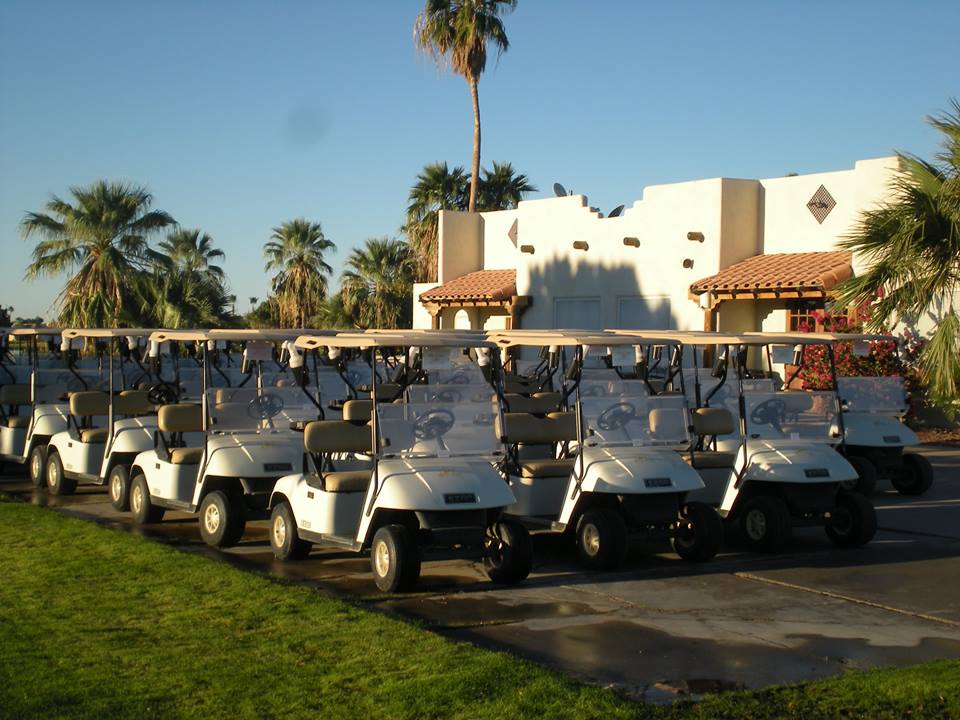 "Every hole is unique in that it is surrounded by beautiful homes and landscaping. There is a view of the ever changing beauty of the foothills from most fairways. The rates are reasonable depending on the time of year for a championship golf course. Every hole is challenging and at times forgiving even for the inexperienced golfer."